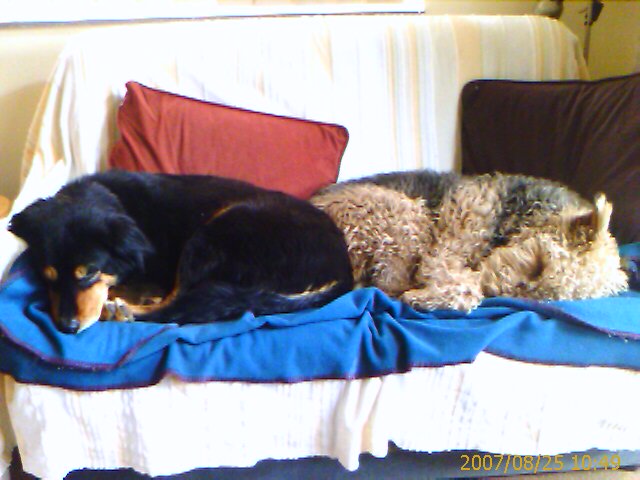 Roxy the true lady
27 September 2007 (Written By Jodi White)
Things are going very well on our side. Roxi's settled in and just as wonderful as ever. Her personality is starting to change a bit and she can be quite silly sometimes. She and Penny continue to amaze me with their playing. Roxy is still a little hesitant to play, but sometimes when she forgets herself she tumbles with Penny and its so cute. She is a very classy little doggie and when we go walking, Penny will walk in the mud and pick things up off the ground, whereas Roxi is like the real lady. She almost tip toes through the mud and never picks anything up. She is just wonderful
I took a picture of the two of them catching a snooze on the couch the other day. Compared to when she arrived, she was so skinny, she is now starting to fill out, which is great to see. She is by no means fat, but she has a bit of meat on her now.
Thank you for Roxi, I love her very much!
Take care and have a great day.
Kind regards
Jodi